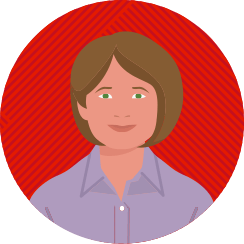 Talia was only one step away from completing her degree but felt embarrassed about the length of time she had been out of work. She was lacking in confidence and looking for direction.
---
Talia* had been out of the labour market for a number of years.
Lacking confidence
When she came to Workwise she lacked confidence around finding a job and she felt embarrassed about the length of time she had been out of work. Having almost completed her degree, with one paper to go, Talia was also worried that work would cause a distraction and hinder her studies.
Talia's Workwise employment consultant, Lyssa, encouraged her to apply for work anyway. "Because it was only one paper, I was sure Talia would be able to complete it while working," said Lyssa.
"I felt she should apply for jobs because it could be a missed opportunity if she didn't, and the uni paper is still there as a goal for the year."
Developing skills
Lyssa supported Talia by:
developing her CV
building her confidence
encouraging her to apply for jobs
practising interviews using behavioural techniques
developing her skills with Zoom video-conferencing for interviews (a requirement due to the COVID-19 restrictions)
Success
Talia was delighted when she secured a job interview in the health sector. Lyssa and Talia ran through some behavioural competency interview questions that were likely to come up, until Talia felt well-prepared and ready to shine. Talia was successfully offered a role as a health care assistant!
Ongoing support
Talia knows she can rely on Lyssa for further support as she settles into her new role, and that Lyssa will be on hand to support Talia with any challenges that arise.
Talia is excited about the prospect of starting work and completing her degree, all in the same year. "I think she's more than capable to be able to achieve what she wants out of life," said Lyssa.
"Sometimes you just need a little push in the right direction. I think she will enjoy the challenges of her new role and being able to help people in need."
*Name changed to protect privacy.