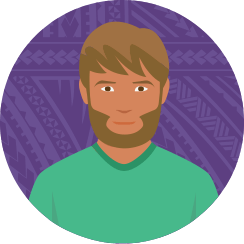 Steve, like his uncle, was diagnosed with schizophrenia. Steve's uncle spent his life in institutions – so at first both Steve and his parents thought this would be his future too. But Steve's future was bright.
---
Steve* engaged well with community mental health services and his recovery was slow but steady. He built up a good rapport with his case manager and worked with a psychologist on building his confidence.
A lot to offer
"Steve's confidence was low but he was bright with such a lot to offer," says Sue*, Steve's Workwise employment consultant.
"We set about combining planning and preparation, job search and undertaking job search exercises together."
Soon Steve was getting interviews – but he wasn't getting any further.
Despite this, "Steve's commitment to finding a job never faltered" says Sue.
Prior to his illness, Steve had studied at degree level but was unable to complete his final year of study.
His previous work experience had been short-lived and mainly in printing or basic packing jobs.
Potential
Sue, however, felt that Steve's real skills and abilities lay in IT. "He was very technically minded with great keyboard skills," says Sue.
Nine months into Steve's employment journey, the team leader for the Primary Care Mental Health Team mentioned a part-time role was available in the administration of mental health services within the DHB.
"Because of Steve's commitment to employment I immediately thought of him first," says Sue.
"I'll never forget the bright smile on his face when I suggested the job to him and we arranged an interview."
Success
Steve's interview was successful and within a month he started as an administrator within the DHB.
"He has since attended training and team days and was recently the star of a team day for winning the team quiz," says Sue.
Things weren't easy for Steve in the beginning but with regular reviews, discussion, and support Steve now rests more easily in his role and is applying for a grant to study computing. He aims to eventually undertake a more technically based role.
Steve is certainly enjoying the benefits working brings.
*Names have been changed for privacy reasons.