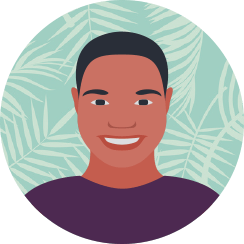 Josh today is a confident young man with a wonderful relationship, a career path all mapped out, and excellent work experience in a field he is passionate about. He's a very different young man from the Josh who first visited Workwise.
---
"I met Josh* when he came to the Workwise office in 2009," says his Workwise employment consultant Sara*.
"He was 20 years old, suffering from depression, and had been struggling with his marijuana use for the last 12 months."
A need for purpose and direction
Josh was not unmotivated: after completing the sixth form at a country town college, he moved to Christchurch where he completed courses in outdoor recreation, first aid and outdoor pursuit leadership.
Unable to secure employment in the outdoor recreation field, he spent the following three years working with recruitment agencies doing short-term assignments.
"This type of work had left Josh feeling without purpose and direction," says Sara.
"He was at the point where he felt he could only manage part-time hours due to his depression and low self-esteem."
A dream job
In conversation, Josh mentioned that he had a great relationship with his grandmother and that caregiving for the elderly was his 'dream job'.
He did not, however, believe this was a realistic option for him, as he was young and had no experience in the field.
"I felt differently," says Sara.
"Josh was clearly passionate about this area of work – his grandmother was a great inspiration for him – and he had also started to go to church and had become involved with a girl he met there. Soon afterwards, he stopped using marijuana. He was doing well and I really felt that, with support, he could be successful in a caregiving role."
Sara approached potential employers and Josh secured part-time employment at the end of 2009 as a trainee caregiver in a retirement complex.
The job was within walking distance from his home.
Overcoming challenges
The transition to work came with its own challenges.
"At first the residents did not take Josh seriously and continually asked him why he had chosen to work in a field dominated by women," says Sara.
"It was great to see that Josh was able to politely brush these comments aside. The residents soon accepted him."
Josh found his dream job as fulfilling as he had hoped it would be.
"I love the variety of tasks, talking with older people about their pasts and their families, seeing them smile on my shifts, and making them as comfortable as I can," says Josh.
"Doing this job has given me hope, purpose, and direction."
This hope and purpose are also clearly evident in Josh's personal life.
Since Josh gave up marijuana and started work, his relationship with his parents and siblings has improved. They are all very proud of him. He proposed to his girlfriend and they plan to marry this Christmas.
A bright future
Now, Josh is a full-time student, studying for the Aged Care Certificate. He has fine-tuned his career pathway and he intends to commence his nursing training in 2012.
On completion of his Bachelor of Nursing degree, he wants to return to work in the same retirement complex.
"Josh's future looks bright," says Sara.
"As an employment consultant, it has been an incredible journey with Josh and wonderful to see him develop from a shy young man into someone who is confident and passionate, with a career plan and dreams for the future."
*Names have been changed for privacy reasons.